Registration
Everyone who is listed on the conference programme and who wishes to attend the conference needs to register and pay in full before attending the conference.
How to register
Fill the registration form, associated with different payment options (by debit/credit card via PayPal*, Paypal account* or bank transfer).
The 'early-bird' booking deadline will be extended until Friday 18 March 2016. Registrations made after this date are subject to increased fees (+20€).
Please contact the conference organizers with any questions: ssn2016@surveillance-studies.net
Registration fees
The Conference Fee is 370€ per person, which includes access to conference sessions, materials and booklets, lunch and all-day refreshments. The two years' membership fee of the Surveillance Studies Network is 30€. SSN members have reduced conference fees.
The membership fee will be used to promote the charitable activities of the Surveillance Studies Network, support the continued publication of the Journal of Surveillance and Society and give other benefits to members.
Table of Fees: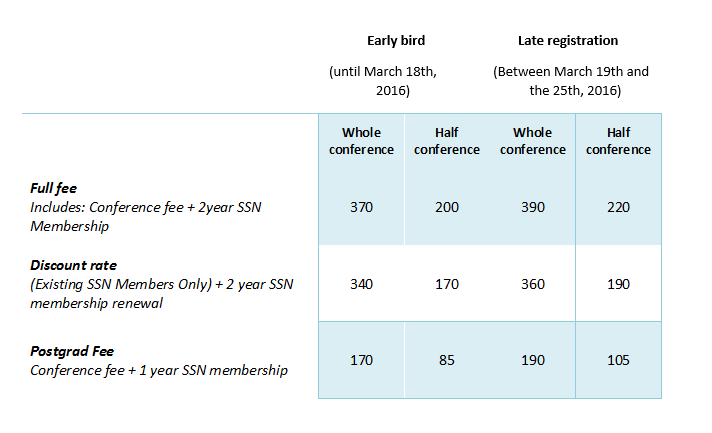 PhD Scholarships
We have awarded 15 scholarships for PhD students, exempting them from the registration fee. This have been allocated to full-time PhD students with an accepted abstract based on the quality of the abstract/ research description.
The Organizing Committee will also explore ways to offer reduced rates and facilitate participation of local participants, post docs and others who might not have access to academic resources. Please register of interest as soon as possible providing name, title and contact details by email to ssn2016@surveillance-studies.net.
Postgrad Fees
We have activated again the option to register with discounted fee (half of the price) for PhD students. We will continue to offer this discounted PhD rates as long as this is financially available for the organization of the conference.  In case you are a PhD student please register here.
Payment methods 
Payment options are bank transfer or PayPal (using the PayPal platform will add a 10€ in concept of PayPal payment transaction fee). Instructions and links are found at the end of the registration form. If you are experiencing problems, please do not hesitate to contact us!
Cancellations
Bookings for this event are non-refundable unless a medical certificate or similar evidence can be produced.
If you do cancel your booking by producing a medical certificate or similar evidence, cancellations made up to eight weeks in advance will incur a 30€ administration fee, and cancellations made thereafter will incur a 60€ fee. We cannot give any refunds for cancellations made less than seven days before the event, during, or after the event.
Joining the Surveillance Studies Network
You can apply for Fellowship at the same time as registering for SSN Barcelona 2016. In addition to reduced registration fees for conference, joining Surveillance Studies Network entitles you to membership of the organization, which is renewable every two years from the initial date you joined. Your membership fees go towards the publication of the journal to ensure that it remains free to access and benefits the wider activist, journalist and scholarly communities who read it, as well as the general public.
In return, we will offer you:
The opportunity to offer yourself for election to the board of Surveillance Studies Network and Surveillance and Society
Discounts on all SSN-sponsored conferences and events
Approval and sponsorship of your research bids and events about surveillance
Access to a member's area on the website, containing network and knowledge building opportunities
Optional entry on our list of media experts
In the future we have plans to offer our members:
Small amounts of pump priming funds for research proposals
Conference travel grants for junior scholars and scholars from the developing world
An online encyclopaedia of surveillance and resource base
Please visit http://www.surveillance-studies.net for more information.
*Using the PayPal platform will add a 10€ in concept of PayPal payment transaction fee